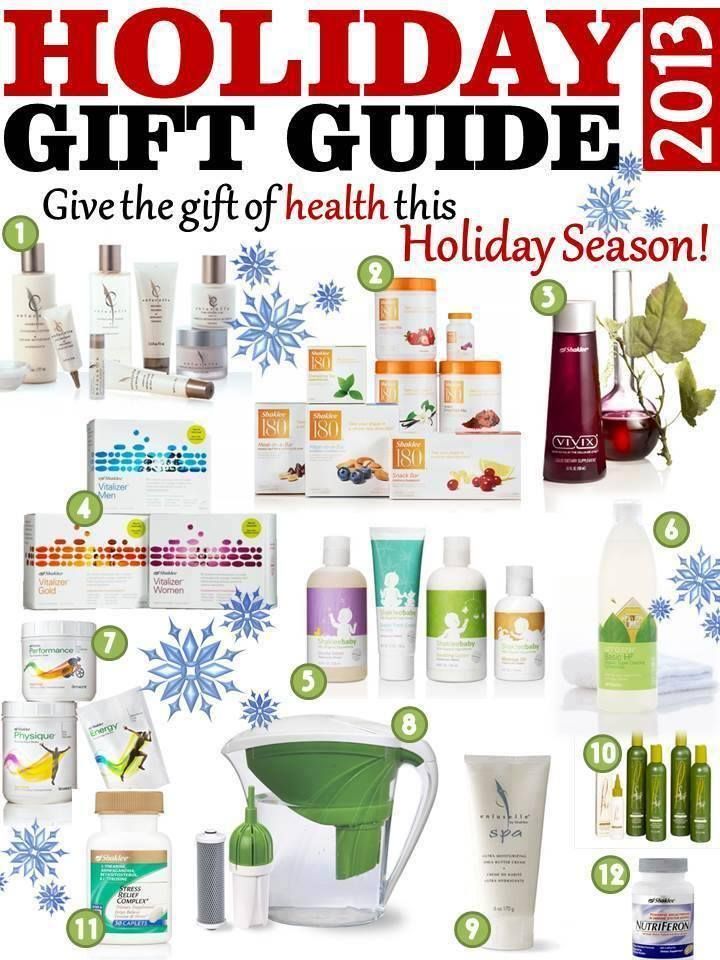 If you're thinking about getting special gifts for the people in your life, then give the gift of health! Give the REAL GIFTS THAT LAST, excellent quality Shaklee products!! or give YOURSELF a great Shaklee Gift. HAPPY DAY to you!!!!!!! Here are a few gift-giving suggestions that include some of my favorite products. Make someone's day bright by sharing the gift of Shaklee!
1. Enfuselle Nutritonal Therapy for the Skin
The Gift of Younger-Looking, Healthier Skin
2. Shaklee 180™ Kit
The Gift of a Leaner & Healthier Shape
3. VIVIX
The Gift of Feeling Younger, Longer
4. Vitalizer
The Gift of Vitality
5. ShakleeBaby & ShakleeKids
The Gift of Soft & Healthier Children
6. Basic H2 & Get Clean
The Gift of a Healthier Home
7. Sports Nutrition Package
The Gift of AthleticEndurance
8. Get Clean Water
The Gift of Cleaner Water
9. Enfuselle Spa Shea Butter Cream
The Gift of Softer Skin
10. ProSante Hair Care System
The Gift of Thicker, Stronger & Healthier Hair
11. Stress Relief Complex
The Gift of Fast Stress Relief
12. Nutriferon
The Gift of a Healthy Holiday Season & Beyond!